HISTORIC HOMESITE FOR OVER TWO CENTURIES
ALFORD, FREEMAN, ROLES/WILLIAMS, TERRELL, YOUNG, FOWLER & BROUGHTON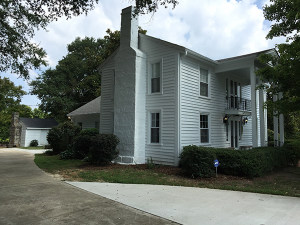 Your tour includes…
Rolesville History Room: artifacts and documents interpret early life
Romantic 1860 Magnolia tree: the living symbol of an undying love
Original Detached Kitchen: rustic hearth that fed several families
Original Smokehouse: the importance of keeping it stocked & locked
Historic Stone-lined Well: kids really enjoy pullingl up a pail of water from the old well
Crossroads: Before we step inside, envision the old stage coach croassroads where local merchants like the Roles, Terrell, Young and Fowler families sold basics to nurture a growing town.
Inside the John Lewis Terrell House, explore how the historic site was home to eight local families across two centuries and discover residents' contributions to our town. Lafayette, the Revolutionary War hero, had an interesting visit here in Rolesville! Finish your visit where past meets present, as you explore antique and contemporary art and craft currently exhibiting in Galleries 1 & 2. Browse books and crafts, along with handcrafted jewelry, toys and art in the Museum Shop before heading off for a walking tour to visit the nearby Terrell Family Cemetary.