HISTORIC ROLESVILLE SOCIETY
Historic Rolesville Society is a 501(c)(3) not for profit organization dedicated to the preservation, education, and interpretation of history in our greater Rolesville area.
Little House Museum & Gallery hosts the office space, artifacts, meetings, events, fundraisers and other activities in support of the HRS.
Quarterly meetings of the Historic Rolesville Society will be held in 2023 on the third Sunday of each quarter—January, April, July and October. All interested history lovers are encouraged to attend. Over flow parking is available along Williams Street and two blocks south at Main Street Park, Rolesville, NC 27571.
HRS Members receive the HRS Quarterly Newsletter along with email reminders and invitations to HRS events. Memberships are $30 Family, $20 Individual and $10 Senior Citizens and Students. Gold, Silver and Bronze Patrons receive eternal thanks, along with special recognition via HRS facebook page, special events and more. To join the HRS, or for more information, email historicrolesville@gmail.com
---
---
RECENT EVENTS: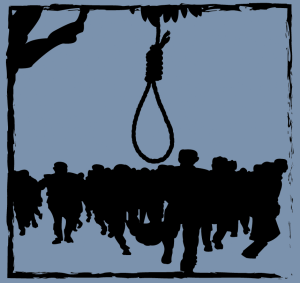 GEORGE TAYLOR REMEMBRANCE: MUSEUM PARTICIPATION
This Saturday Little House Museum will participate in the George Taylor Community Remembrance Project in the spirit of Truth and Reconciliation.
Please join us 10am-Noon this Saturday, November 3, 2018, as we observe the 100th Anniversary of the George Taylor Lynching of November 1918 with these actions:
First Reading of the students' George Taylor Narrative with discussion of the event and the student project at 10am
First Opportunity to Make a Citizen's Promise with Soil Collection for the students, at 10:30am
Meet the Artist: Doug Gilliam at 11:00am
Installation of the George Taylor Memory Jar crafted by Doug Gilliam with reading of Gilliam's Artist's Statement, at 11:30am
Second Reading of the students' George Taylor Narrative, at 11:45pm
Second Opportunity to Make a Citizen's Promise with Soil Collection for the students, at Noon
Admission is free
Parking at the intersection of Main and Young Streets
Multiple Wake County student groups have been collaborating on a social justice project that culminates this upcoming week. We hope you will take a moment to review the events of 100 years ago, just outside of Rolesville. We also hope you or your organization will consider participating in a very simple project to support student efforts to promote hope for the future through reconciliation with past injustice. The website that these students have set up explains the rest. Learn more using this link to the George Taylor Community Remembrance Project:
HAUNTED HISTORY STORIES
ROLESVILLE FALL FUNFEST
Saturday, October 27 1pm-4pm
Lucy Roles (a.k.a. Pam Eagles, HRS Secretary) and Mildewing Mildred (a.k.a. Terry Marcellin-Little, Director of Little House Museum) told true tales of spooky happenings at local sites. Photos coming soon!
---
Come by the museum for a meet and greet for candidate Mack Paul this Sunday, October 21 from 2-4pm. Join in a museum tour after the event!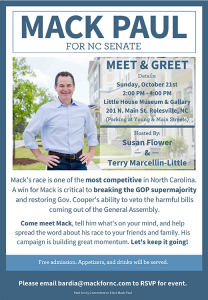 ---
OUR GARDEN VISION TOOK SHAPE THIS SUMMER!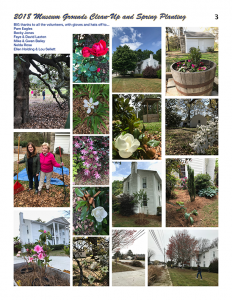 ---
MUSEUM RIBBON CUTTING & PERRY FAMILY TRIBUTE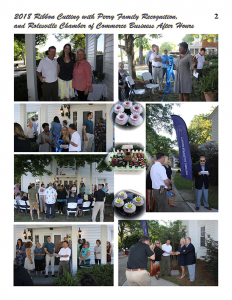 ---
HRS QUARTERLY MEETING DECEMBER 11, 2017
KICKED OFF HISTORIC HOME HOLIDAY EXHIBIT!
It was great to see HRS sponsors and friends at the Winter quarter meeting this past Monday! We had great food, even greater company and a fascinating presentation by Mike Bailey on discovery of local artifacts. The "unveiling" of the latest donation to HRS – a 1:12 scale replica of the Mississippi plantation "D'Evereux" was a rousing success. The group was mesmerized by the miniature world created by the late Gary Johnsen, embellished for our Historic Home exhibit with seasonal decor and scenes from the McKissack's Christmas in the Big House, Christmas in the Quarters. Little House Museum was dressed in her best seasonal finery for the event and the weeks that follow. We hope, if you missed this week's meeting, you'll stop by to soak up the historic site and holiday exhibit. Hours are listed on this website's CALENDAR.
HAPPY HOLIDAYS FROM HRS & LITTLE HOUSE!
---
HISTORIC ROLESVILLE SOCIETY IN ROLESVILLE'S CHRISTMAS PARADE!
DECEMBER 3, 2017
---
ROLESVILLE CHAMBER HOSTS YOUTH LEADERSHIP AT MUSEUM
NOVEMBER 16, 2017
---
HISTORIC ROLESVILLE SOCIETY AT THE CHAMBER BBQ
SEPTEMBER, 2017
---
LAFAYETTE'S 260TH BIRTHDAY: LET THEM EAT CAKE!
Thanks to all the volunteers and friends who came out September 6th to help us celebrate the 260th Birthday of Lafayette!
Come learn more about this General along with a local Colonel, when we explore the roots behind our upcoming exhibit: Heroes of Two Worlds: Michael & The Marquis. Enjoy that and more at the next HRS Meeting, Monday October 11, 2017 at 7pm. (Weather permitting!)